Trail Report: Eagle River
Reported By: hollyt
Date of Report: 02/10/2016
Trail Conditions: Good
Snow Cover: 8-9 give or take – 14+ off trail in woods
Area Report:

Sno-Eagles TRAILS IN
Good CONDITION with some Fair
Icy, icy underneath
It's Wednesday
Sno-Eagles Ride – 9am – At Railroad Depot on Trail 13

Groomers are working hard to get all in shape. Bo shared a pictures coming back in this morning.  Looking good!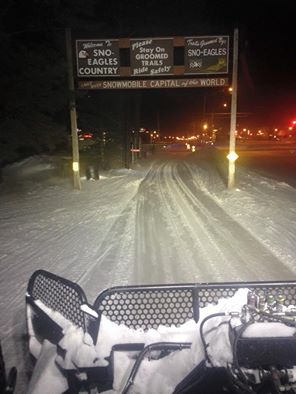 *Trail Alternate 13S is groomed all the way to the connection with the 3 Lakes Trails.  Frozen up tight. Most is Good to Very Good but there are areas of blow out and ice.
*Trail 10E is in Good to Fair condition.  The sections of trail in the ditch line could use more snow to be more level.
*Trails north, all of them are also in Good to Fair condition.  With the wind yesterday there is blow out.  Plus thinner snow in the big pines.
*Trails heading west are pretty Good except Trail 70/7 up on the hill along side of Hwy 70W
*Trails 10W/13N frozen on both approaches.  Choppy. But not real bad.
Cold is back until at least Saturday night.  That is good.  More snow too. Looks to be Lake Effect for now.  Superior is freezing over but not completely.  If it does our Lake Effect from the north will end. Once in a while we do get Lake Effect off of Lake Michigan.  This requires a reverse low which doesn't happen often.
Safety note.  Please take the time to stop at Stop signs on the trails.  Receiving many reports of riders not even slowing up at Trail and Road crossings. And stay on the marked trails. Riding non trail roads can be dangerous plus off trail riding causes lose of trails on private lands.  Come On Man!
As you ride if you find a problem please call Trail Boss Tom at 715.617.0917 OR 715.617.408 to report.
CATFISH LAKE LOOP & EAGLE LAKE TRAILS ARE BOTH MARKED WITH ORANGE REFLECTIVE BARRELS & OPEN! As you ride stay by the barrels because the entire lakes may/are not safe.

Did you remember to buy your New required Trail Pass?  Call me 715.617.4708 if you need help OR Club President, Ken Storms at 715.479.5599 or email to president@sno-eagles.org  The turn around for the Discount $10 Pass is 7-10 days.  The $30 version is available at Holiday North & South.
Get out & ride.
See ya on the trails!

Holly Tomlanovich
Sno-Eagles, Inc
PROUD GROOMERS OF THE SNOWMOBILE CAPITAL OF THE WORLD
Recorded Trail Updates – 715.479.5185
News & Events:
Wednesday & Thursday are Sno-Eagles Trail Rides.  Meet at 9am on Trail 13 in town by the Railroad Depot & Friendship House. Lunch on your own.

Ride with Pride Raffle – 1st prize choice of 2016 SkiDoo snowmobile OR Cam ATV. 2nd prize 55″ Flat Panel TV. 3rd prize Wild Eagle Lodge mini vacation with dinner. 4th prize Eagle Waters Mini Vacation.  Tickets $2 or 3 for $5.  Go to sno-eagles.org for more outlets selling tickets. Drawing February 27 at TrackSide
February 14 Northern Lights Annual Trailside Weiner Roast – 10am to 3pm – Sheltered Valley Rd of the Kimble Creek Trail – Three Lakes, WI
February 18 – Monthly member Meeting – Sportsmen's Chalet 7pm
February 27 – SNO(Saturday Night Out) White Spruce Inn