Trail Report: Eagle River
Reported By: hollyt – Sno-Eagles
Date of Report: 04/01/2014
Trail Conditions: Trails Closed
Snow Cover: All ice in most area
Area Report:
Memories of December 2013!
VILAS COUNTY SNOWMOBILE TRAILS ARE CLOSED
See you all next season

The 2013-2014 Sledding Season has come to an end.  Yesterday, the last day of riding brought a heavy down pour of rain in the mid afternoon.  So we truly are at an end.

The trail closing includes both lake trails – Catfish Lake Loop & Eagle Lake Trails.   The orange reflective barrels have been removed from Catfish Lake Loop by the owners of Braywood & Tijan's 12 Pines.  The orange reflective barrels are still on the Eagle Lake Trail.  Do not ride on either of these lake trails even though the barrels are still on Eagle Lake.  When the ice loosens around the orange barrels on Eagle Lake businesses will remove the barrels.

What a year!  3 1/2 months of riding.  Deep snow & cold temperatures all winter kept trail in really great condition.

That's it for this year.  Sno-Eagles Snowmobile Club & the other 10 clubs in Vilas County do not disappear when the trails close.  Check out Sno-Eagles.org or our FACEBOOK page Sno-Eagles Snowmobile Club for the latest activities & updates about the club.

Time to clean up the sleds & ready them for the summer.  Then we wait until December!

Have a great summer!
Holly Tomlanovich

Sno-Eagles, Inc
PROUD GROOMERS OF THE SNOWMOBILE CAPITAL OF THE WORLD
Recorded Trail Update 715.479.5185
News & Events: April 26 – SNO (Saturday Night Out) – Lanny's Fireside – Hwy 45N between Conover & Land 0′ Lakes – 5:30pm cocktails – 6pm dinner

Snowmobiling Information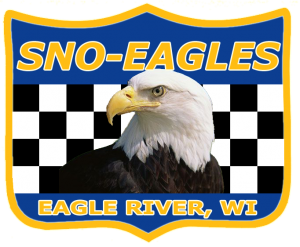 Eagle River has long held the distinction of SNOWMOBILE CAPITAL OF THE WORLD, and it's a matter of pride that causes local clubs and businesses to work so diligently to maintain that title. Snowmobile fever becomes a way of life in our Eagle River winters, and the talk often turns to "picks", "carbides" and performance. In fact, these snow machines seem to outnumber cars during the winter months.
Over 500 MILES OF GROOMED TRAILS connect the communities of the area, including access to major county and state routes. Trails wind throughout the area's scenic forests, but frequently pass close to service businesses which can provide you with fuel and sustenance, shelter and refreshment. If you don't have your own snowmobile, several dealerships will be happy to provide you with equipment during your visit.
Check out – Sno-Eagles Snowmobile Club on FaceBook or Sno-Eagles.org for Sno-Eagles Activities