Trail Report: Eagle River
Reported By: Holly Tomlanovich – Sno-Eagles, Inc
Date of Report: 12/03/2013
Trail Conditions: Trails Closed
Snow Cover: 5-6 inches of fresh SNOw & still SNOWINg
Area Report:
VILAS COUNTY SNOWMOBILE TRAILS WILL BE SANCTIONED TO OPEN ON DECEMBER 17.  SNOW CONDITION PERMITTING.
About 5-6 inches of SNOW over night!  Still SNOWING this morning!
The Brushing & Signing crew have been out every Thursday for a while now getting the trails ready.  We also had the 1st Annual Brushing & Signing Party with a weenie roast.  The guys & gals have had to go over the trails several times due to all the high winds.  Branches, trees & brush has fallen into the trails.  Tomorrow will be the last Thursday of work.
Next Wednesday, December 11 Trail Boss Tom & a few works will go out with the Vilas County Parks & Recreation Administrator, Dale Mayo to inspect the Sno-Eagles Trails for sanctioning.  He is doing the same for the other 10 clubs in Vilas County.  When that's all done it's a waiting game for the 17th of the month.
So…..what I need from you all is first THINK COLD & then start doing the SNOW DANCE.  Nice & load so I can hear it up here.  A cold front is coming in & bringing in SNOW.  Right now we have a light covering.  Any where from a schiff to 3 inches on the ground.
As for the 2 lake trails, Catfish Lake Loop & the Eagle Lake Trail they are ice covered.  Not enough to open the lake trails unless you all THINK COLD really hard!
It won't be long now!  See ya on the trails real soon!
Holly Tomlanovich
Sno-Eagles, Inc.
PROUD GROOMERS OF THE SNOWMOBILE CAPITAL OF THE WORLD
Recorded Trail Update 715.479.5185
News & Events:
WDNR Snowmobile Safety Class
2 DAY CLASS Dec 6 from 6-9 PM
Dec 7 from 9AM-2PM
Derby Track in Eagle River
SPONSORED BY THE Sno-Eagles, Inc. Snowmobile Club of Eagle River, WI

 Students must be at least 12 years old
 Snowmobilers under age 16 must have safety certification
 Cost $10
 Must register in advance
 DNR Customer ID needed – Register online for Class & DNR ID at SNOWMOBILE SAFETY CLASS

 Call 850-496-7324 for info
 Check out Sno-Eagles.org Trail Report for Saturday Night Out dates & locations
Sno-Eagles General Member Meeting – January 16, 7pm – Club DeNoyer – Hwy 70W about 3 miles from town

Sno-Eagles General Member Meeting – February 20, 7pm – Blue Heron – Located at Wild Eagle Resort – Hwy 45N to Chain 0′ Lakes Rd – Watch for signs

Sno-Eagles General Member Meeting – March 20, 7pm – Eagle Waters Resort & Restaurant – Hwy 70E 3 miles from the 45/70 intersection.  Left on Rangeline Rd – Follow the signs

Sno-Eagles General Member Meeting – April 17, 7pm – Eddie B's White Spruce Inn – Hwy 45N – Just across the bridge

Snowmobiling Information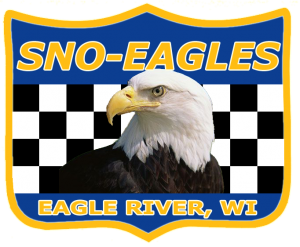 Eagle River has long held the distinction of SNOWMOBILE CAPITAL OF THE WORLD, and it's a matter of pride that causes local clubs and businesses to work so diligently to maintain that title. Snowmobile fever becomes a way of life in our Eagle River winters, and the talk often turns to "picks", "carbides" and performance. In fact, these snow machines seem to outnumber cars during the winter months.
Over 500 MILES OF GROOMED TRAILS connect the communities of the area, including access to major county and state routes. Trails wind throughout the area's scenic forests, but frequently pass close to service businesses which can provide you with fuel and sustenance, shelter and refreshment. If you don't have your own snowmobile, several dealerships will be happy to provide you with equipment during your visit.
Check out - Sno-Eagles Snowmobile Club on FaceBook or Sno-Eagles.org for Sno-Eagles Activities