Trail Report: Eagle River
Reported By: hollyt – Sno-Eagles
Date of Report: 03/08/2014
Trail Conditions: Excellent
Snow Cover: Thick frozen snow base with ice at the bottom – Loose snow on top
Area Report:

Trail 13N at TrackSide taken 3-8-14
ALL THE VILAS COUNTY SNOWMOBILE TRAILS ARE OPEN!!
TRAILS ARE IN VERY GOOD TO EXCELLENT CONDITION & GROOMED!
Today 34; Saturday 24; Sunday  38.  Single digits tonight and Saturday night. Overcast today all day.  There is a ton of snow so if there is much deterioration it will be right in the towns.  Check out the woods riding option below.  Here are some photos I took this today.
Trigs Spur Facing E  Spruce Rd-Catfish Lk Loop      Catfish Lake Loop-Lake
If the snow & weather conditions hold trails can & will remain open through midnight March 31st.  Every year I here folks talking about the trails closing on March 15th.  That's when ice fishing shanties have to be off the lakes.  We ride til the 31st.  So keep doin the snow dance!
The snow fall for the winter is somewhere around 7 feet+.  Terrific winter.  With all the snow comes very, very high snow banks.  So at the crossings do double duty looking both ways. Standing up on your sled & look both ways is the best.  Vehicles on the roads just can't see us & we are no match for a truck or car.
As you are riding be aware of the sign below.  These 3 digits numbers could save your life.  You will see them in Vilas, Forest, Oneida & Iron Counties.  If you get into trouble call 911 & give them the last number you saw & the county.  The Department punches it in & your where abouts appears plus it give them the best way to get to you. 

There are tons of trails to ride in Vilas County. Here are some ideas.
Trail 10E to the Three Lake Trails is my personal favorite.  We call it the Kimble Creek Run.  Takes you through the woods & you come out just outside Three Lakes.  Run through town & pick up Trail 13 the grade back to Eagle River.  50-60 mile run.  Or head south on Trail 13(groomed last night) to Three Lakes trails & make your way south to Monico & over to Rhinelander.  Looping around from the south through Sugar Camp heading north to Eagle River.  Another ride would be to head west out of Eagle River on 13/70W to the intersection of 13/70W & Trail 7.  You cross the Hwy to get there.  Take that to Trail 17.  Right turn to head north.  This will take you through some very nice woods trails.  As move along you can pick Trail 70A or Trail 70B. Making you way into St. Germain trails & Sugar Camp trails. These rides have less pit stops so the traffic should be less but so will the stops be less. 

Catfish Loop & Eagle Lake Trail are marked with orange barrels.  Plenty of snow. Stay by the barrels.  Please don't ride anywhere on a lake that is not marked as a trail in Sno-Eagles Country or for that matter anywhere.  At the boat launches there still are ruts from trucks & ATV's so be aware for that.  The wind left some righteous drifts which are not big bumps. Got a report of a big heave in the middle of Eagle Lake.  It's a launcher so slow down & be careful.  Both the ruts, bumps & the ice heave are hard to see especially at night.
The Sno-Eagles Wednesday rides meet every week at 9am!  They meet at the Railroad Depot on Trail 13S by Friendship House Restaurant at 9am.  There will be Tuesday Scenic Rides.  The meeting place for the ride is the Railroad Depot on Trail 13S at 9am.  Same spot as the Wednesday ride. Everyone is welcome & you do not have to be a Club member. 

Another great addition is Day Trip Trailer/Tow Vehicle Parking.  It is located by driving North on Hwy 45 & turning left on Bluebird Rd.  Bluebird Rd is in between Days Inn & Leif's Restaurant.  It curves behind Leif's & that is where the parking is located.  Watch for the signs.
Last chance to see the Ice Castle in Eagle River on Trail 13!!! Early next week it will be coming down.

Lots of riders out today so Ride Right & Ride Safe!
See ya on the trails!
Holly Tomlanovich
Sno-Eagles, Inc.
PROUD GROOMERS OF THE SNOWMOBILE CAPITAL OF THE WORLD
Recorded Trail Update 715.479.5185
FACEBOOK – Sno-Eagles Snowmobile Club
TWITTER – Sno-Eagles @ snomoholly
News & Events: UPCOMING SNO-EAGLES ACTIVITIES
March 11 Tuesday Ride – 9am – Meet at the  Old Railroad Depot on Trail 13 in town across from the Friendship House
March 12 – Wednesday Ride – 9am – meet at the  Old Railroad Depot on Trail 13 in town across from the Friendship House
March 18 Tuesday Ride – 9am – Meet at the Old Railroad Depot on Trail 13 in town across from the Friendship House
March 19 – Wednesday Ride – 9am – Meet at the Olde Railroad Depot on Trail 13 in town across from the Friendship House
March 20 Annual Membership Meeting(Elections) Eagle Water Resort  – 7pm
March 22 Saturday Night Out – Tijan's 12 Pines – 5:30pm

Snowmobiling Information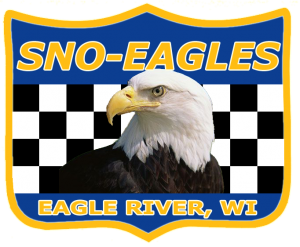 Eagle River has long held the distinction of SNOWMOBILE CAPITAL OF THE WORLD, and it's a matter of pride that causes local clubs and businesses to work so diligently to maintain that title. Snowmobile fever becomes a way of life in our Eagle River winters, and the talk often turns to "picks", "carbides" and performance. In fact, these snow machines seem to outnumber cars during the winter months.
Over 500 MILES OF GROOMED TRAILS connect the communities of the area, including access to major county and state routes. Trails wind throughout the area's scenic forests, but frequently pass close to service businesses which can provide you with fuel and sustenance, shelter and refreshment. If you don't have your own snowmobile, several dealerships will be happy to provide you with equipment during your visit.
Check out - Sno-Eagles Snowmobile Club on FaceBook or Sno-Eagles.org for Sno-Eagles Activities