Trail Report: Eagle River
Reported By: Holly Tomlanovich
Date of Report: 12/18/2014
Trail Conditions: Fair
Snow Cover: 6-8 inches
Area Report: Sno-Eagles & all of Vilas County Trails are Open.
Currently trails are in Fair to Poor Condition.6 inches of SNOW in the last couple of days! Off & on we are also getting Lake Effect Snow which is a bonus because it is never in the forecast! Let's hope that Lake Superior does not freeze over. The big winds out of Northern & Western Canada blow over the Lake & pick up moisture & then drop right here in Northern Wisconsin & UP.
Trail Boss Tom will start panning very soon. Stay tuned. Trail Boss Tom & the drivers start all over building a base. The ground will freeze down & a hard base will hold the trail conditions better.
Section of Trail 3 north of Eagle River between Trail 17 & Trail 10W/13N is closed. A new creek appeared in there & it is still wet. It is blocked with orange fencing & a sign. So stay out.
Keep Doing' the Snow Dance & THINKING COLD! Winter seems to have returned to Vilas County.
Merry Christmas & See ya on the trails real soon!
Holly Tomlanovich
Sno-Eagles, Inc.
PROUD GROOMERS OF THE SNOWMOBILE CAPITAL OF THE WORLD
Recorded Trail Updates 715.479.5185
News & Events: December 28 – 11am ish – PACKER PARTY & SNO-EAGLES FUNDRAISER
Take Pride & Ride Raffle Tickets $2 or 3/$5, Other Raffles, Prize Drawings, Food & Drink Specials.  Tons of TV's.
Cheer for the Packers vs Lions & help Sno-Eagles Raise Funds for the new Groomer!

January 17, 2015 – 5:30pm – TrackSide parking lot across from the Derby Track
TORCHLIGHT PARADE – 1968 REUNION!
Ride from TrackSide south on Trail 13 "the Grade".  Stop at the Ice Castle for photos & to buy Take Pride & Ride Tickets.
Then on to the ERRA Sports Arena for a Welcome &  take in the Falcons/Mosinee Hockey Game or off to dinner or back to town!
For either of these events call 715.617.4708

Snowmobiling Information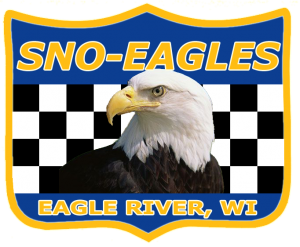 Eagle River has long held the distinction of SNOWMOBILE CAPITAL OF THE WORLD, and it's a matter of pride that causes local clubs and businesses to work so diligently to maintain that title. Snowmobile fever becomes a way of life in our Eagle River winters, and the talk often turns to "picks", "carbides" and performance. In fact, these snow machines seem to outnumber cars during the winter months.
Over 500 MILES OF GROOMED TRAILS connect the communities of the area, including access to major county and state routes. Trails wind throughout the area's scenic forests, but frequently pass close to service businesses which can provide you with fuel and sustenance, shelter and refreshment. If you don't have your own snowmobile, several dealerships will be happy to provide you with equipment during your visit.
Check out – Sno-Eagles Snowmobile Club on FaceBook or Sno-Eagles.org for Sno-Eagles Activities