Trail Report: Eagle River
Reported By: hollyt
Date of Report: 01/24/2015
Trail Conditions: Fair
Snow Cover: Base holding with soft snow on top!
Area Report:

Snowmobile Trails are open



Happy to report that the New Holand Tractor with soucy tracks arrived mid yesterday & was out on the trails at 5:30pm yesterday.  The Prinoth was also out grooming on limited duty as it is limpy.  The New Holland was out 10-12 hours last night grooming.  My understanding that they groomed about 2/3 of the trails.  Grooming will continue today starting early to catch the balance & regroom other locations.  The MTX Tractor should have repairs completed very soon & it too will be out.
The warm day time temps have softened up the snow every where so it is squirrielly.  Also because the water table is high there might be slush or water in areas as you ride.  Checkout the report about Alternate Trail 13 to Three Lakes below.
Here is the latest National Weather Service prediction for temps:
Saturday High 32 Low 9

Sunday High 18 Low 7

Monday High 22 Low 21 Snow moving in

Tuesday High 25 Low 16


Eagle Lake Trail & Catfish Lake Loop are marked & OPEN.  Stay by the barrels.  Remember not all lakes are trails.
Alternate Trail 13S has a water spot on the east side as you ride south.  It is passable by going over to the right (west).  The water area is marked with an orange reflective barrel.

Thanks everybody for the words of encouragement & offers of help.  As a Club we are raising funds for at least one groomer & and we are 1/2 way to the $50,000 that we need to move forward to the purchase of a groomer which run $150,000 to $200,000.  So please plug a jug or send a donation.

KEEP DOIN' THE SNOW DANCE!
Riding today so See ya on the trails!

Holly Tomlanovich
Sno-Eagles, Inc
PROUD GROOMERS OF THE SNOWMOBILE CAPITAL OF THE WORLD
Recorded Trail Update 715.479.5185
News & Events: Plug a jug as your ride

Snowmobiling Information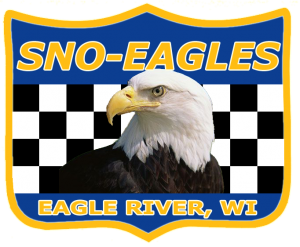 Eagle River has long held the distinction of SNOWMOBILE CAPITAL OF THE WORLD, and it's a matter of pride that causes local clubs and businesses to work so diligently to maintain that title. Snowmobile fever becomes a way of life in our Eagle River winters, and the talk often turns to "picks", "carbides" and performance. In fact, these snow machines seem to outnumber cars during the winter months.
Over 500 MILES OF GROOMED TRAILS connect the communities of the area, including access to major county and state routes. Trails wind throughout the area's scenic forests, but frequently pass close to service businesses which can provide you with fuel and sustenance, shelter and refreshment. If you don't have your own snowmobile, several dealerships will be happy to provide you with equipment during your visit.
Check out – Sno-Eagles Snowmobile Club on FaceBook or Sno-Eagles.org for Sno-Eagles Activities