Trail Report: Presque Isle
Reported By: Renn Karl
Date of Report: 04/01/2014
Trail Conditions: Trails Closed
Snow Cover: 0 to 24 inches
Area Report: All Wisconsin Snowmobile Trails are Closed. However, for snowmobile clubs, the work of maintaining and securing snowmobile trails is a year around obligation. The NEW 2013 Wisconsin Act 142 will change how EVERY snowmobiler will look at snowmobile clubs in Wisconsin. Take a moment and review the new law at the AWSC Website http://www.awsc.org Thank you for supporting snowmobiling and until next year…. "Think Snow".
News & Events:

Click Here to order a Presque Isle-Winchester, WI snowmobile trail map.
(Please include your Name, Address, City, State and Zip with your map request.)
Snowmobiling Information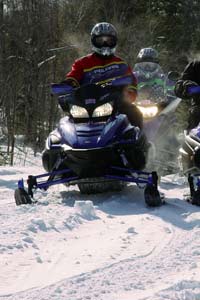 Presque Isle is at the top of Wisconsin, on the border of Michigan's Upper Peninsula, waiting to be discovered by the winter enthusiast seeking something extra special. Presque Isle is unique among Northwoods recreation areas. Even its name sets it apart. Nearly 300 years ago French priests christened the area "Presque Isle" or "Almost an Island" because of the immense number of lakes and rivers that dwarf the land. In fact, nowhere else in the United States can another area be found with more water for the amount of land mass. These countless lakes and vast stretches of pine and hardwood forests combine to make this area "Wisconsin's Last Wilderness". Imagine enjoying this breath-taking scenery while riding on miles and miles of well-groomed trails with deep powdery snow that comes early and stays late, and you will know why Presque Isle is a top snowmobiling destination.
Presque Isle's long winters are due to its proximity to Lake Superior. Excellent early season snowmobiling is provided by lake-effect snowfalls which last well into March. With Presque Isle at the hub of a major snowmobile system, you can spend a week and ride a different trail each day. The area's nearly 500 miles of groomed trails, winding through forests and over hilly country, provide something to please every snowmobiler. Riding north, you can cross the border into Michigan's Upper Peninsula, another snowy playground with limitless opportunities.
The local Sno-Bunnies Snowmobile Club keeps the trails superbly marked and maintained. Safety is a prime concern of the club, and members work year-round to improve the trails.
To help you plan your trip, Snowmobile maps are available from local businesses, the Sno-Bunnies Snowmobile Club , or Presque Isle Chamber of Commerce. The $1 donation for maps is greatly appreciated and used to help with trail grooming and maintenance.
The Presque Isle area offers excellent lodging and dining accommodations. For further information contact the Presque Isle Chamber of Commerce , 715-686-2910 or 888-835-6508.