Snowmobiling Information
DID YOU KNOW?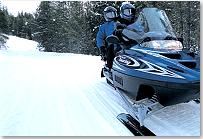 It is clear to see why northern Michigan attracts thousands of snowmobile enthusiasts each weekend. With northern Michigan's extensive trail system, abundant snow and exciting terrain, it is the perfect setting for a snowmobiling adventure for all ages. Michigan also offers plenty of lodging and snowmobile friendly pubs and taverns and terrific dining as well. Winter in Michigan is a rich tradition. From Gaylord's SnowCross 2000 to Tip-Up Town in Houghton Lake, there are plenty of activities all winter long in Northern Michigan. These are just a couple reason why sledders of all ages come to northern Michigan every week to work, play and sled!
Michigan is known by snowmobilers nationwide for its unique combination of abundant and dependable snow, exciting terrain, and extensive trail network. Over 6,300 miles of snowmobile trails are located throughout the state in six State Forests, three National Forests, and many acres of privately owned lands.
Michigan is one of only three states that offer a large system of interconnected snowmobile trails. Snowmobile safety training is available through the Department of Natural Resources, Law Enforcement Division. More than 100 grooming tractors are used in 4 DNR, Forest Management Division offices and by 61 grants program sponsors to groom the 6,300+ mile trail system.
Registration fees and snowmobile permit fees and a portion of the states gasoline tax account for over 6.8 million dollars annually allocated for trail grooming. $500,000-$800,000 is allocated annually for "off-season" repairs to snowmobile trail facilities.