Snowmobiling Information
Cheboygan, Michigan offers access to over 500 miles of groomed snowmobile trails for hours of winter adventure. Cross-country skiing trails are also available with a series of beginner, intermediate, and advanced trails at Black Mountain. Sports enthusiasts will love Cheboygan's indoor ice rink for family skating or an exciting hockey game.
The West Mullett Lake Trail, is an 11-mile stretch between Cheboygan and Indian River, this trail now connects the entire Gaylord to Mackinaw City corridor. This trail follows the shoreline of Mullett Lake, offering beautiful views of the lake, and allows access from Indian River to Mackinaw City through Tobinabee and Cheboygan, Michigan. The City of Cheboygan has also opened new trails to allow access to Downtown Cheboygan shopping, dining, and attractions! There are now three new arteries into Cheboygan off of the trail which had been the Michigan Central Railroad.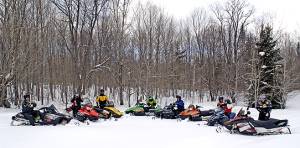 A short jaunt from Downtown Cheboygan is the Black Mountain Recreation Area. Snowmobiling has been very popular in the Black Mountain Area for many years. You can access a large snowmobile trail system or you can go through the area after getting on the system near Cheboygan or Millersburg Michigan. There are more than 80 miles of groomed trails awaiting you in this area alone! Not only does the Black Mountain Area offer wonderful snowmobile trails, but there are also over 30 miles of cross-country skiing trails. Skiers and snowmobilers alike will find themselves sailing under majestic pines, taking in views of Black Lake, and under the right conditions, even
getting a glimpse of Lake Huron. Four separate parking lots are available in the Recreation Area.