Reporter:
Manitowish Waters Chamber
Trail Conditions:
Good
Snow Cover:
8 - 12" inches
Date of Report
: January 29, 2019
Area Report:
Jan 29 2019
An inch of snow yesterday morning and another inch overnight. It's also going to be very cold for a day or 2, so dress accordingly.  Frostbite can happen within minutes!!
Manitowish Waters trails remain in good condition! Julia from Dietz's Service in Manitowish Waters put a bunch of miles on yesterday. She said, "Cruisers trails down south were flat and great, the same in MW,  trails good in Mercer but a bit bumpy"   (busy weekend, I'm sure they have them flat now) 
Overall the trails are flat & have a good, solid base. The additional snow definitely helps!!  Expect colder temperatures into this weekend. Watch the corners, as they may be icy from the heavier traffic this week.  
REMEMBER: RIDE RIGHT, USE YOUR HAND SIGNALS, BEWARE OF ONCOMING TRAFFIC AND RESPECT OUR LANDOWNERS BY STAYING ON THE MARKED TRAILS! NO EXCEPTIONS!
News and Reports:
Remember our upcoming events:
Sunday, Feb 3 –  Breakfast at the Pea Patch  8am-Noon
Sat, Feb 16 –  Winterfest Rendezvous
We need raffle items for the Rendezvous – they can be dropped off at the Pea Patch anytime!
REMEMBER TO RIDE RIGHT, USE YOUR HAND SIGNALS, BEWARE OF ONCOMING TRAFFIC, RESPECT OUR LANDOWNERS AND STAY ON THE MARKED TRAILS.
Snowmobile Information: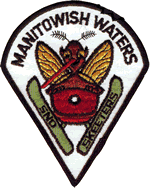 The Manitowish Waters Sno-Skeeters snowmobile club was founded in 1968 and is one of the oldest snowmobile clubs in existence today in Wisconsin. Located in the very northwest corner of Vilas county, Manitowish Waters borders the Lake Superior snow-belt country. With average snowfalls of 150 inches and over 25 miles of professionally groomed trails, the area is one of Vilas County's top winter vacation areas.
The Manitowish Waters trail system is a unique hub network directly linking into 5 other trail systems. With Minocqua/Woodruff to our south, St. Germain/Eagle River to our southeast, Lake Gogebic to our north, Presque Isle/Winchester to our northeast, Mercer and Hurley to our northwest and Lac du Flambeau/Price County to our west, our area residents and guests can choose from a variety of daily or overnight destinations for scenic riding with excellent pit stops along the way.
The Manitowish Waters Sno-Skeeters maintain an active grooming schedule for the area's trail system. Coordinated efforts with the surrounding communities provide continuous smoothly-groomed trails in this northwest sector. The Sno-Skeeters own and operate some of the newest grooming equipment on the market today. Support the club by attending their special events or contributing to the "trail pigs" at local establishments along the trails. Or show your support by becoming a member!
Enjoy, and please ride responsibly and safely!